Natural-History-Conservation.com
<![if !vml]>
<![endif]>    Working in Abu Dhabi, conserving the largest fossil specimen ever to have been found in the United Arab Emirates

In late 2002 Nigel Larkin was contacted by the Abu Dhabi Islands Archaeological Survey (ADIAS) for advice on how to excavate a very fragile and friable eight million year old tusk lying within loose sands of the Arabian desert. Over ten feet long, this is the largest fossil ever to have been found in this area of the Middle East - an area stretching from Pakistan in the east to North Africa in the west. This very long, straight tusk belonged to an early elephantid called Stegotetrabelodon syrticus, further remains of which were found nearby.
We provided ADIAS with several pages of detailed advice, including what methods and materials would be useful to employ, and where the materials could be ordered from. Despite the size and fragility of the specimen and the weakness of the surrounding sediment the excavation was a great success: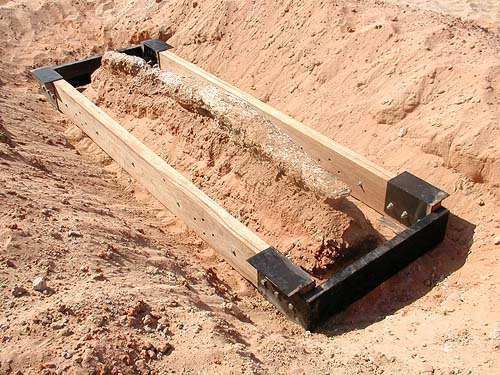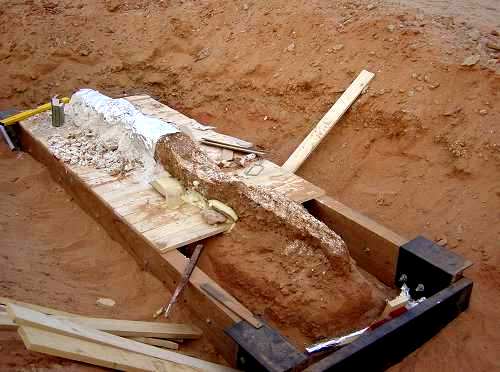 Excavating the tusk in the western desert of the United Arab Emirates (Thanks to Will Higgs and Mark Beech of ADIAS for photos).
In February 2003 Nigel was subsequently invited to travel the three and a half thousand miles to Abu Dhabi to conserve this important, fragile, fossil and prepare it for display. During a nine-day visit the permanent wooden support was added to and strengthened, the field jacket was removed, the fragile specimen consolidated, and some damage from the excavation process was repaired. Also, some areas needed modelling work to disguise repairs, and some hollow areas of the tusk needed infilling to make the specimen more robust and less prone to further damage. A secure permanent support was needed under the whole length of the tusk to hold the tusk and matrix in place when being moved, and this was made with a combination of plaster of Paris and Jesmonite resin. This support was then painted with a mixture of clean sand and glue to disguise it as the intention is to display the tusk as if lying in a natural bed of sand. All processes and materials used were fully reversable, and a full conservation report with diagrams and photographs was submitted within days of completing the project.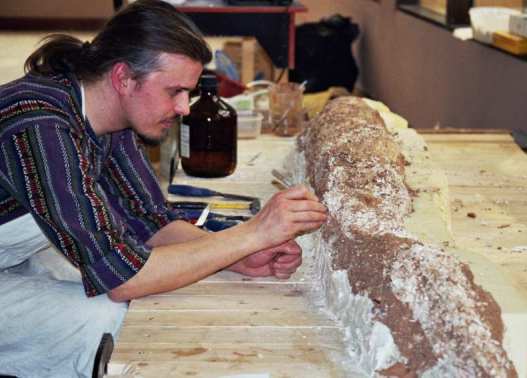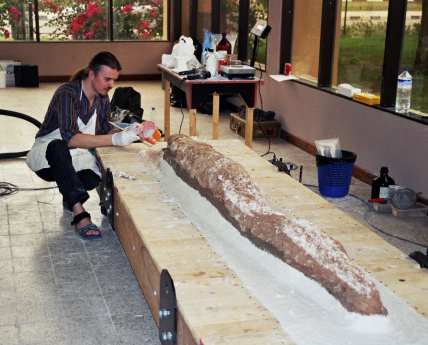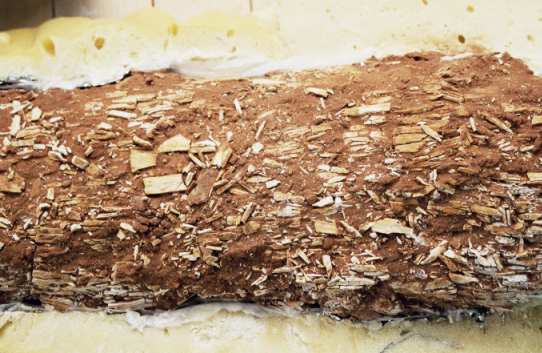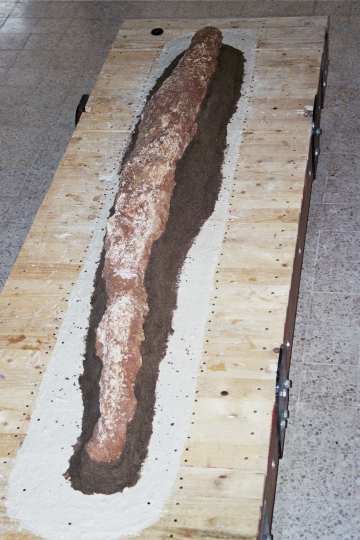 As this project was finished slightly ahead of schedule, time was also found to repair and prepare the oldest fossil ever found in Kuwait - the toe bone of a Gomphothere, a very early ancestral form of the elephantidae. ADIAS has asked Nigel to return to Abu Dhabi later in 2003 to prepare and conserve more fossils recently excavated in the desert, including the large lower jaw of a Stegotetrabelodon.
Here are some reconstructions to show you what a stegotetrabelodon elephantid might have looked like:
These pictures are from the book "Extinct Animals" by E. Ray Lankester (London, Archibald Constable & Co. Ltd.1905)
From left to right the pictures are: a photograph of the complete skeleton of Mastodon (Tetrabelodon) angustidens, from the Miocene strata of the South of France; a drawing representing the probable appearance of Tetrabelodon angustidens; a drawing of Tetrabelodon angustidens with open mouth and "trunk" uplifted; and a representation of a restored skull and lower jaw of Mastodon (Tetrabelodon) angustidens from a drawing prepared by Dr. Henry Woodward, F.R.S.
If you would like to know more about this project please visit the Abu Dhabi Islands Archaeological Survey website. If you are interested in taxidermy, I can recommend the website of Izhar and Abdul Hafeez who work in the Taxidermy Unit of the Private Department of His Highness Sheikh Zayed bin Sultan Al Nahyan, President of the UAE - visit taxidermynet.com. For all other information about Abu Dhabi and the United Arab Emirates in general, please visit United-arab-emirates resources - United Arab Emirates related news, books and regional resources.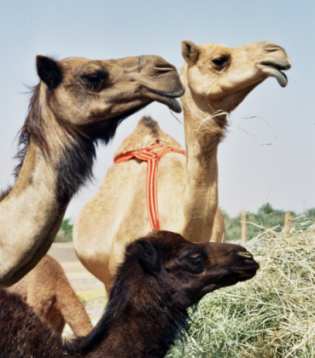 For more details about what we can do for you, or for a quote, please contact:
enquiries@natural-history-conservation.com
We are members of the United Kingdom Institute for Conservation of Historic and Artistic Works, and committee members of the Natural Sciences Conservation Group.